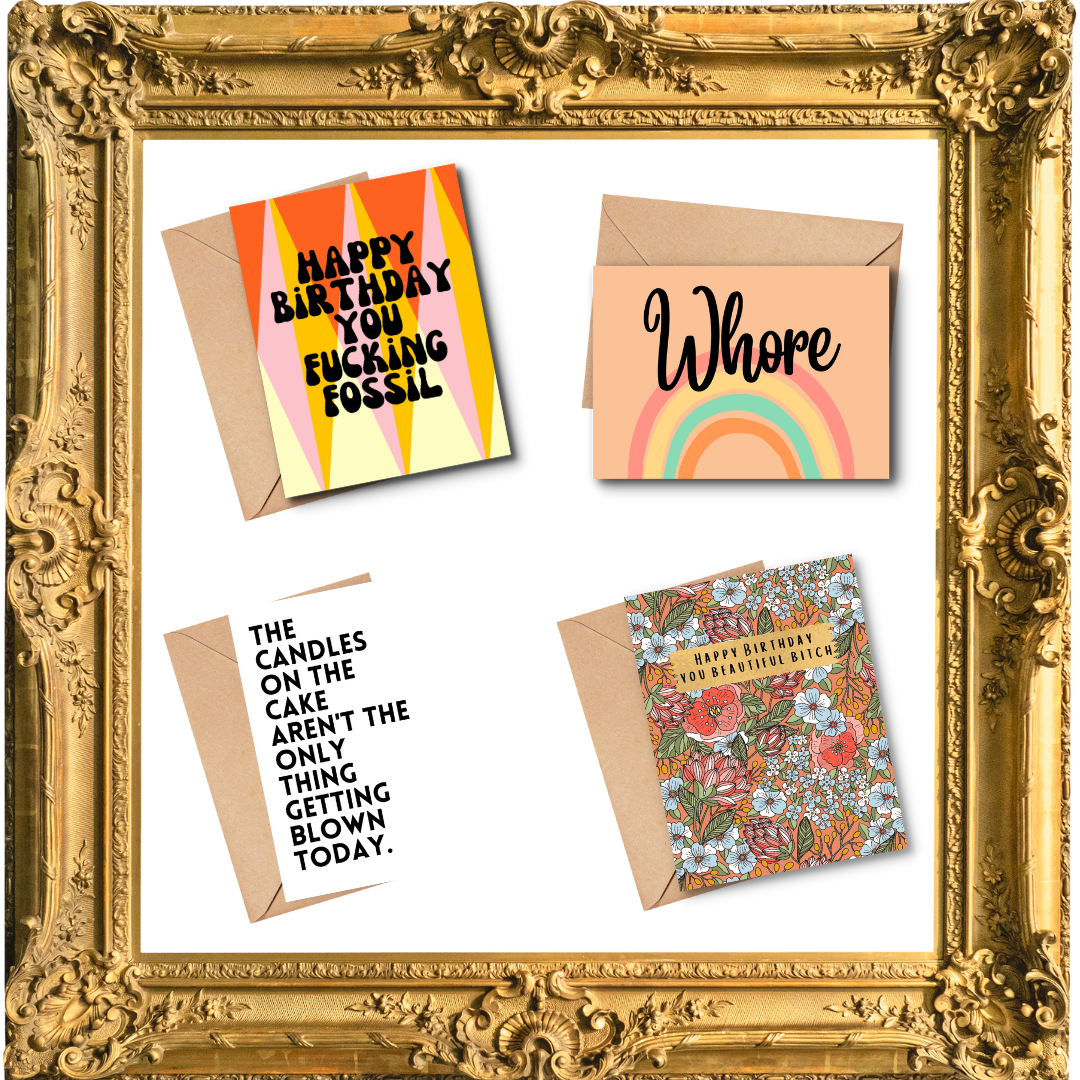 Welcome to as told by ellie
It's spooky season, bitches!
Woman owned small business
Here's the deal, bitches - I'm all about making people smile and occasionally laugh so hard, they pee their pants a little bit. Seeing swear words in birthday cards made me giggle and here I am now - making the world a funnier place, one card at a time.
birthday cards
Some of them talk shit, some of them might get you laid, some of them are sweet AF - all of them are hilarious.
greeting cards guaranteed to get you laid!
It's basically Christmas ...
... and never to early to prepare, you fucking slacker! I mean, check out my Christmas Collection!
2023 holidays
| | | |
| --- | --- | --- |
| Valentine's Day | February 4, 2023 | February 14, 2023 |
| Mother's Day | May 4, 2023 | June 8, 2023 |
| Father's Day | June 8, 2023 | June 18, 2023 |
| Halloween | October 21, 2023 | October 31, 2023 |
| Christmas | December 15, 2023 | December 25, 2023 |
greeting cards and gifts for hilarious people with a questionable sense of humor
"This card is beautiful, unique and artistic. It's perfect to celebrate an important day and you can't find something like this in a store."

"ELLIE DOES NOT MISS! This is my second order and I just can not get enough! I'm obsessed with the packaging & that's how you really win over a person!"

"I love this card! You guys have the funniest ones. I can't wait to order more and I can't wait to see my boyfriend's face when he gets it. Thanks so much."

"Absolutely the funniest and best card I've purchased!! I definitely recommend!! IT WILL BE A HIT!!"

"So satisfied! The card I ordered came exactly as I was hoping. It is evident that the seller puts a lot of time and effort into satisfying her customers. Will definitely be buying from this shop again!"

"First of all, I love how my item was packaged. Secondly, I recieved my order quickly. Last, but certainly not least, I love the extra goodies that arrived with my order. I'm definitely ordering from here again!"

"The card is perfect but the packaging was my favorite part. Thank you!"

"Always ships fast and this shop has the best stuff. Love the details when you receive the items too!!"

"Card is what I wanted, husband loved it and seller was super fast at getting back to me when I reached out, I'm thankful for this shop and their service!"

"I love this so much. I gave it to my sister, and my family was passing it around; it got a lot of compliments and smiles. It was delivered quickly, and there was a lot of nice touches on it from the seller. Would definitely buy from this shop again!"
LOVE these cards!
Amazing product and great experience. Couldn't recommend these more.
omg, $2 stickers!
Commit already.
CELEBRATE + NORMALIZE SOBRIETY
Let your sober loved one know how proud of them you are!
shop bundles
Curated + themed gifts for you.
Friendship cards
No occasion needed. A thoughtful way to say, "What's, up bitch? Thinking of you."
Podcast

Be sure to give our podcast, F*ck The Status Quo, a listen! It's sole mission is to create less assholes on the planet. I'm down for that. Are you down for that?

check out the blog

If you're in the mood to laugh and want to feel smart AF and say you read something today, then look no further than the As Told By Ellie blog. It is, afterall, how this whole thing started.
Sign up to our newsletter
Receive special offers and first look at new products.