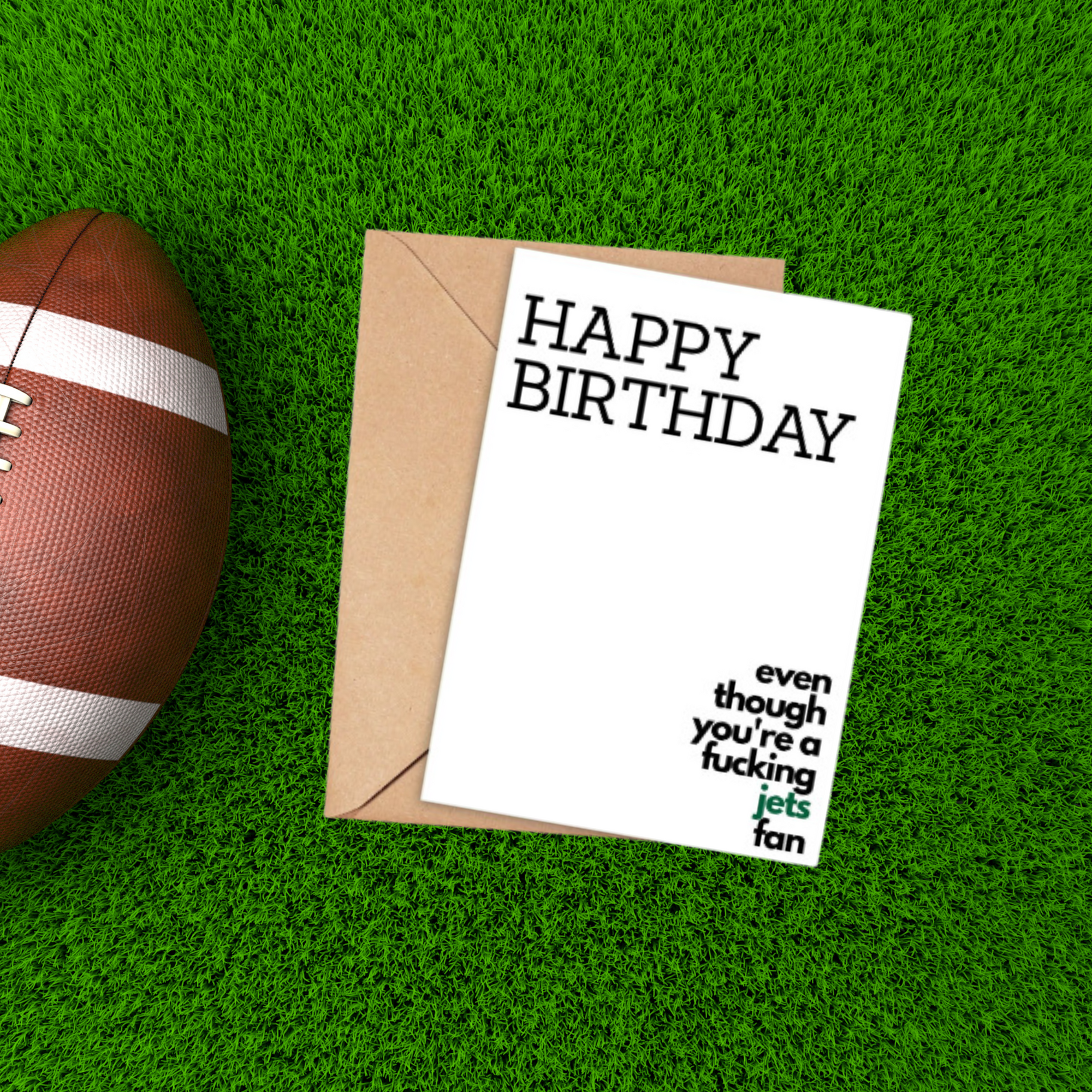 Jets Birthday Card
Snarky Birthday Card for Fans of Gang Green's Grief
Do you know someone who's green with envy at other teams but still jets around town flaunting their New York pride? Taxi into their birthday with a card that's as salty as their game-day tears.
Front: "Happy birthday even though you're a fucking Jets fan." (Boom, touchdown. Or in Jets terms, a field goal attempt that went wide right.)
Features & Details:
Dimensions: Cleared for landing at 5in x 7in (A7 card size)—just the right size to slide next to that signed Joe Namath helmet.
Material: Printed on Broadway-quality high-quality cardstock, designed to outlast even their most futile seasons.
Extras: Comes with a bonus kraft envelope, because Jets fans are used to looking for silver linings.
Protection: Securely sealed in a cello sleeve, offering better protection than their offensive line usually does.
Shipping:
Method: Soaring via USPS Ground Advantage. It won't lead to a Super Bowl, but it will touch down safely in your mailbox.
Tracking: Absolutely. Includes tracking info so you can follow it as closely as a Jets fan scrutinizes a draft pick.
Our Guarantee: This card is jet-propelled by our Broadway Snark Satisfaction Guarantee. If your Jets-loving friend doesn't find this more enjoyable than a rare winning season, it's back to the hangar. We're committed to getting it right—even if their team usually doesn't.
Jump on that 'Add to Cart' button faster than a Jet fan saying, "There's always next year." Give them a birthday filled with the same combination of hope, snark, and inevitable despair that comes with being a Jets fan.