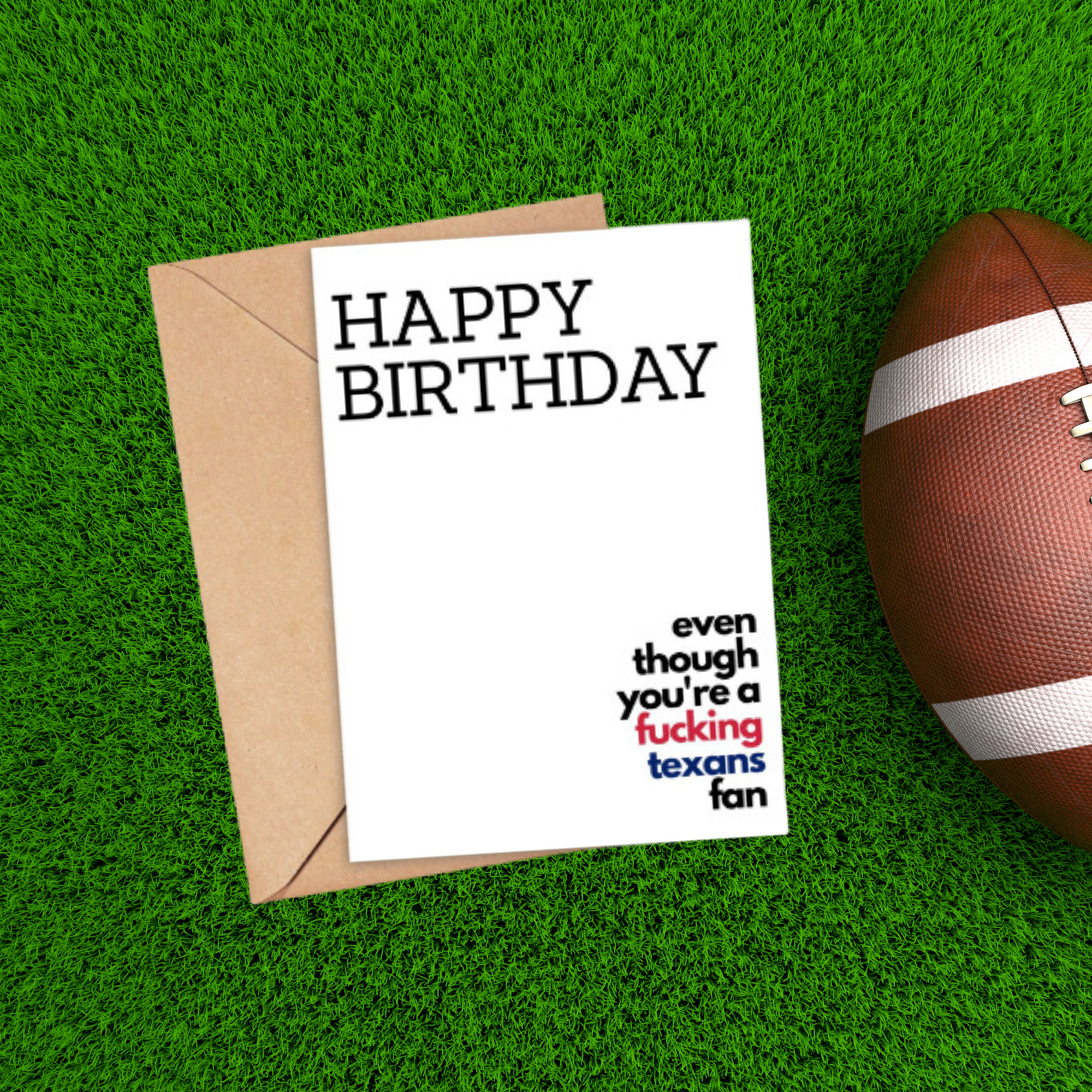 Texans Birthday Card
Snarky Birthday Card for Fans of Houston's Struggling Stars
Got a buddy who's still holding out hope for the Texans, even while staring down the barrel of another questionable season? Roll into their birthday with a card that captures the essence of being a Texans fan—tough love.
Front: "Happy birthday even though you're a fucking Texans fan." (Yep, we tossed that Hail Mary. Someone had to speak the hard truth.)
Features & Details:
Dimensions: Rounding up at 5in x 7in (A7 card size)—perfectly sized to sit beside their cherished J.J. Watt action figure.
Material: Printed on Lone-Star high-quality cardstock that will withstand the season, even if their team won't.
Extras: Comes with a backup kraft envelope, ideal for when they want to share the misery with another die-hard Texans supporter.
Protection: Packed securely in a cello sleeve, providing better defense than, well, you know.
Shipping:
Method: Delivered via USPS Ground Advantage, ensuring this card reaches you faster than the Texans hit the bottom of the division.
Tracking: Naturally, tracking info is included. Keep tabs on this card's movement, even when you can't bear to watch the Texans'.
Our Guarantee: This card rides in with our Saddle Up Snark Satisfaction Guarantee. If your Texans-loving friend doesn't find this card as amusing as their draft picks, let us know. We promise to do better than their front office at making things right.
Act quickly! Add to cart faster than a Texans fan switches the channel to the Rockets. Give them a birthday to remember, in a season they'd rather forget.