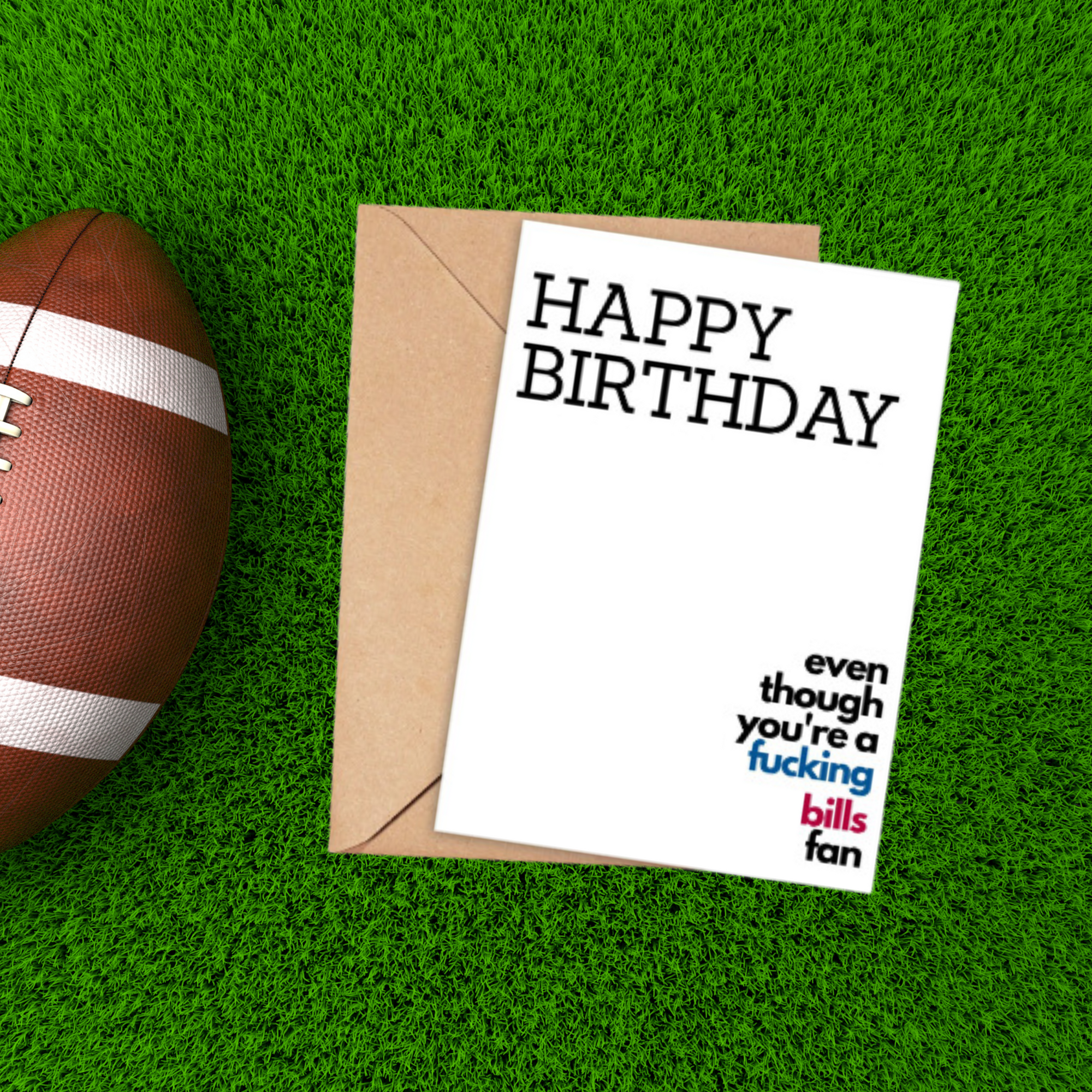 Bills Birthday Card
Snarky Birthday Card for Fans of the Buffalo Wings... err, Bills
Do you have a friend who insists that "Bills Mafia" is a lifestyle and that Buffalo is the center of the football universe? Give them a birthday card that's as full of zest as a Buffalo wing but maybe just a bit saucier.
Front: "Happy birthday even though you're a fucking Bills fan." (Oh yes, we're breaking tables over here. Someone had to call the play.)
Features & Details:
Dimensions: Tailgated at 5in x 7in (A7 card size)—the perfect size to tuck into their "wide right" keepsake box.
Material: Printed on Niagara Falls-resistant high-quality cardstock that won't crumble, unlike some postseason dreams.
Extras: Served with an extra kraft envelope, perfect for when they want to share the snark with another long-suffering Bills fan.
Protection: Safely sheathed in a cello sleeve, because we know how reckless Bills fans can get at tailgates.
Shipping:
Method: Shipped via USPS Ground Advantage. It won't win four Super Bowls in a row, but it will arrive on time.
Tracking: Absolutely, we include tracking info so you can watch its progress better than a fourth-quarter Bills comeback.
Our Guarantee: This card comes with our Buffalo-Blitz Snark Satisfaction Guarantee. If your Bills-loving buddy doesn't find this more exciting than their annual playoff exit, let us know. We aim to do what the Bills often can't—satisfy the fans.
Click 'Add to Cart' faster than a Bills fan can dive through a folding table. Celebrate their birthday with the right blend of camaraderie and rivalry.