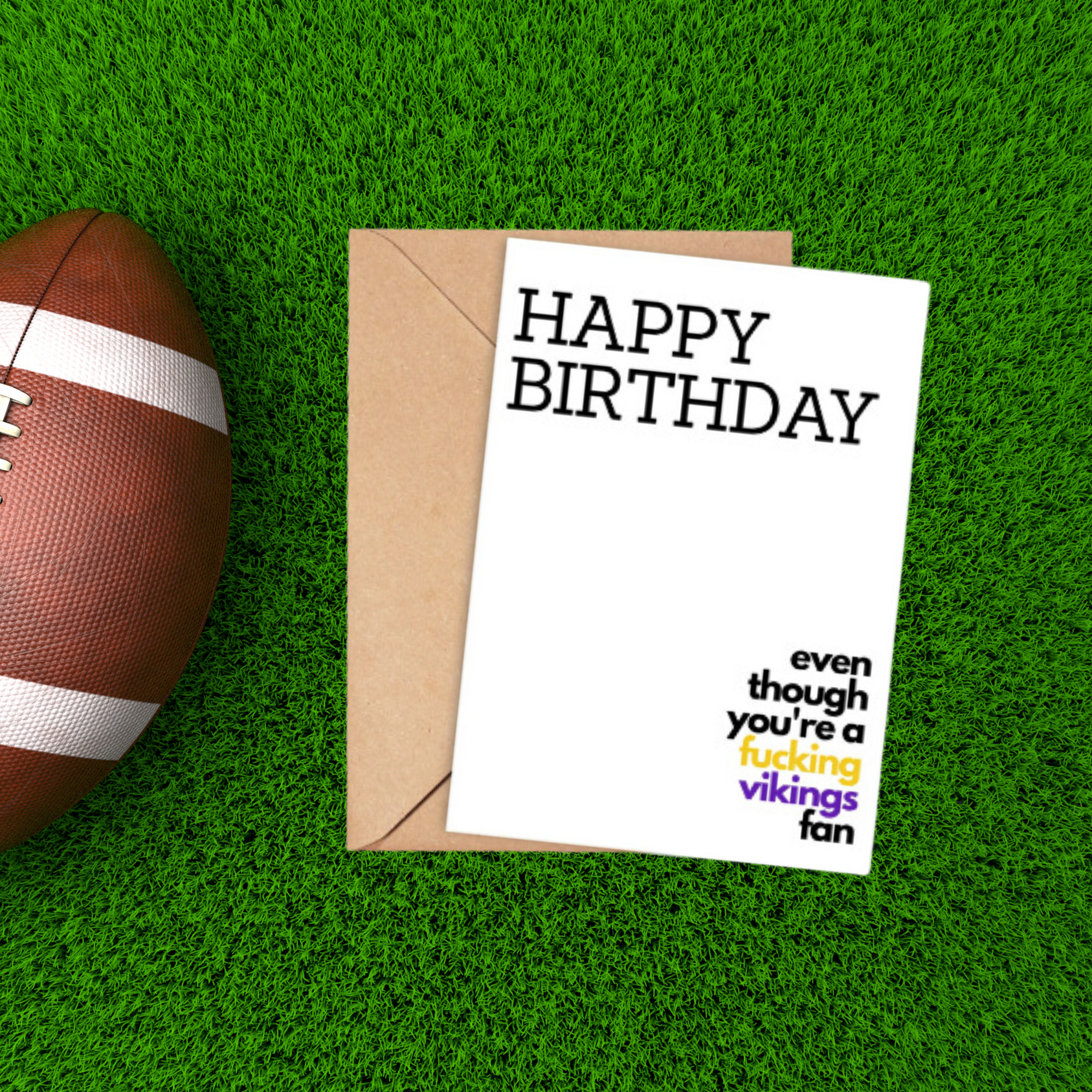 Vikings Birthday Card
Snarky Birthday Card for Fans of the Norse Nuisance
Have a friend who can't stop Skol-chanting and somehow believes that a Viking ship is a reasonable interior decor choice? Send them a birthday card as elusive as their team's Super Bowl win.
Front: "Happy birthday even though you're a fucking Vikings fan." (That's right, we sailed into those icy waters. Someone had to plunder the truth.)
Features & Details:
Dimensions: Measured at a Viking-approved 5in x 7in (A7 card size)—perfect for placing beside their miniature Viking horn.
Material: Printed on high-quality cardstock as hardy as a Minnesotan winter.
Extras: Includes a backup kraft envelope, since Vikings fans know all about second chances... and third... and fourth...
Protection: Safely stashed in a cello sleeve, offering more security than their field goal unit in a clutch game.
Shipping:
Method: Sent via USPS Ground Advantage, ensuring it won't fumble before reaching the end zone.
Tracking: Yup, we include tracking so you can monitor this gem like it's a hopeful postseason run.
Our Guarantee: Each card is backed by our Norse-Galore Snark Satisfaction Guarantee. If your Vikings-loving friend doesn't find this as amusing as an errant field goal, sound the Gjallarhorn. We'll fix it faster than you can say "Favre in purple."
Click 'Add to Cart' quicker than a Viking can row. Navigate their birthday into legendary territory with a card that captures the struggle and the glory of being a Vikings fan.